Structured Data SEO Mega Guide [Free Tools Included]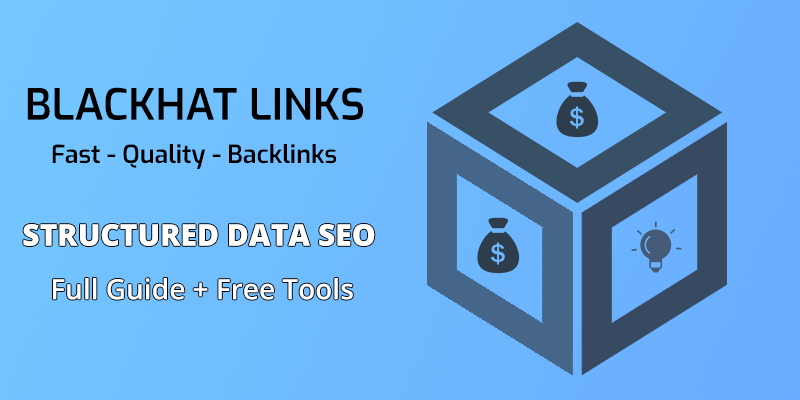 Structured data SEO plays a major role in search engine results page visibility. Especially amongst highly competitive verticals.
It helps listings establish authority, relevance, boosts click-through rates, and conversions all in a single swoop!
And today, we're going to detail exactly how to leverage structured data for SEO for your business and include our favorite tools.
Let's begin!
What is Structured Data SEO

Structured data SEO is all about using a standardized format to mark up the information on a website. This helps the search engine understand what the webpage is about.
So, if a website wishes that a specific piece of content represents an idea or thing in specific (a recipe, a job listing, a product, etc.) then they'll need to use structured data for SEO.
Here's what some schemas look like in the SERPS:
As you can tell structured data organizes and marks up your website code (thus helping google bots), but it also changes the way people look at your listings in the SERP positively.
Why You Need Structured Data for SEO

While Google is continuously improving its algorithms and the way bots interpret information, things tend to slip through the cracks and your information might not be presented in a way that suits your conversions and goals.
That alone is a reason to seriously consider implementing markups in your content. but there are also other advantages worth mentioning
Studies have shown that structured data can noticeably boost a search engines result page listing click-through rate. This is especially true when you're able to use a review markup or a product markup.

Why?
Because three things happen simultaneously:
First, your content stands out from the rest. One of the key aspects of SEO copywriting is letting your readers know they've come to the right place right from the get-go. If they trust you have the answers they need, they'll stay on your website.
In a way, Structured data in SEO allows you to do that before they even click your listing. This causes your clickthrough rate to increase.
Second, you're presenting yourself as an authoritative source of information straight away: A product that has a 5-star review visible on the listings will attract the user's attention while letting Google know exactly what this webpage is about.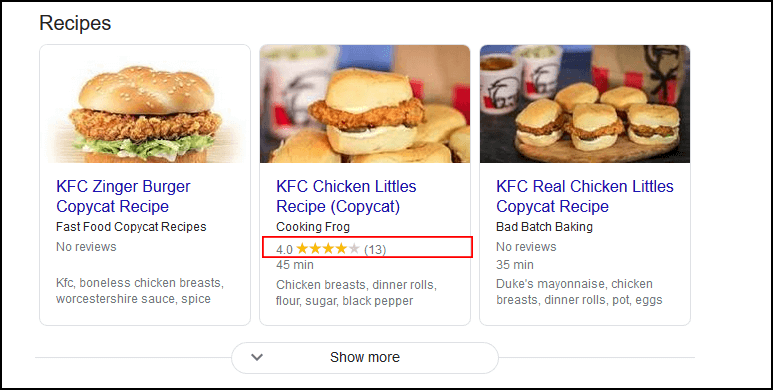 Lastly, conversions also increase because there's a larger number of people looking at your listings. Assuming that your copywriting is on point and that you've optimized for conversions, you'll notice additional conversions in the long run.
Structured Data and Competitive Verticals

Competing against others in :
E-commerce,
Affiliate marketing,
Events,
Creative production,
Movie reviews,
Job listings
Local businesses,
It is nothing short of war. It's a battle of wits and valuable resources to topple your competitors. Every single advantage you can leverage to your favor is critical to ousting your contenders.
In that sense, investing time and effort into structured data SEO is mandatory. Accelerated Mobile Pages, Carousels, and Rich Snippets all require some sort of markup implemented.
True, just implementing a markup won't be enough to instantly rank for a rich snipped or knowledge card (more on these later!)
But if you combine them with strategically placed Private Blog Network links, then you got yourself a powerful combination your competitors will dread.
Blackhatlinks specializes in providing the safest, most powerful PBN backlinks in the industry.
When you buy PBN backlinks from us, we understand that you're looking for links you won't have to check every week to see if they've gone toxic.
With over 9 years working in the SEO industry, we've prioritized listening to our customers and understanding what exactly they need for their business and our role in helping them achieve their goals.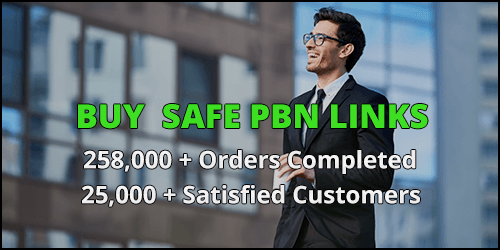 A product that is reliable, safe, and consistently contributes to your domain authority and SEO rankings over time is what our customers need. And with over 258,000 orders completed, it's safe to say we deliver.
So keep in mind that while structured data isn't a formally recognized ranking factor, backlinks definitely are.
Structured data in SEO is there to provide you with an additional customer, positive user experience which in turn helps boost your rankings and conversions. And that alone is reason enough to invest in it.
But what SEO structured data should you use?
Well, there's a laundry list of markups you can use depending on your website. We've created a list that can help you determine which ones you need.
Types of Schema Markups
We've listed the different types of structured data in SEO so that you can pick the one that best suits your business' goals.
Rich Snippets and Rich Cards
Rich snippets and rich cards allow you to preview all sorts of content, and those working in E-commerce use them for all sorts of purposes.
They're commonly used for products, ratings, articles, recipes, and even videos.
You might've noticed the carrousels that often pop up when searching for cooking recipes. These require a specific markup for information to appear listed in a similar fashion.
We've talked about how to rank for rich snippets in a previous guide, which we highly suggest you read once you're done with this guide.
Products Markups
Featuring products using structured data SEO allows you to display its price and other relevant information. It's widely used for good reason.

Limited Offer Markups
There's also an offer markup that can boost clickthrough rate on product listings that have a limited time discount.

Review Markups
The review markup allows you to set star ratings to products, another eye-catcher you'll want to include in your clickthrough rate arsenal.

Knowledge Graphs
These are commonly used for brands as well as individuals that wish to be listed on the right side of the search engine results page.
We referenced "branded searches" in our Google Analytics guide, and how they serve as a measurement of your branding efforts.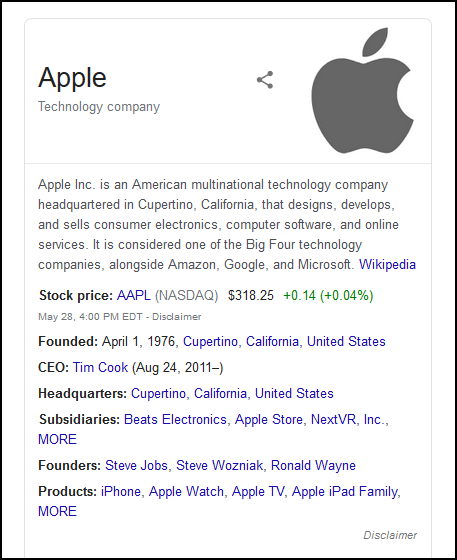 Using structured data SEO can greatly improve your branded search metrics and add a touch of authority to influencers, public figures, and businesses.
Accelerated Mobile Pages
Accelerated mobile pages are amazing in terms of speed and can be fully integrated with WordPress and other CMS.
SS accelerated mobile pages
News and event sites need to use the proper structured data markup if they wish to be included in Google News and appear on the "events" card section of the SERPs, so depending on your business' nature, you might have to implement these markups on all of your webpages.
Recipe Markups
Recipe Rich Cards are great for previewing your awesome food recipes on the search engine results page.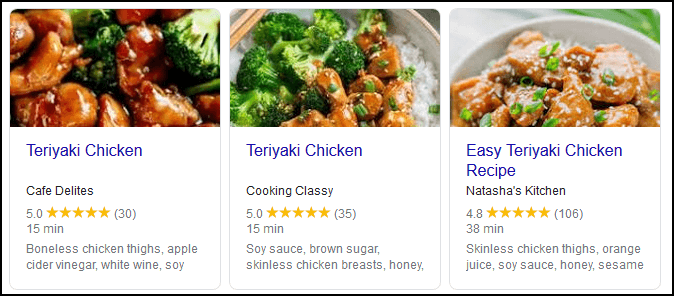 Finding a picture that accurately represents the end product in such a reduced place might be difficult, but it beats having nothing!
Video Markups
Video content has its own schema markup as well. This video snippet that shows the uploader's info, a thumbnail as well as the video's duration for extra visibility.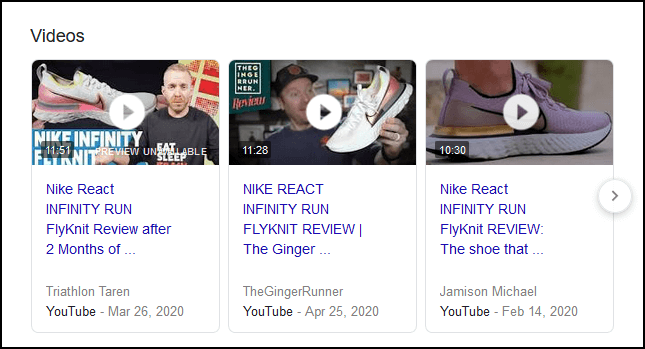 Email Markups
You can also implement structured data to your emails: Amazon orders feature this information at the top of the email, as well as Delta and many other airlines once you book your flight tickets. JSON-LD and Microdata markup both work on Gmail.

Since Google recommends using JSON-LD markups, we suggest you stick to these.
Structured Data in Job Listings
There are specific markups for job listings that will also work on Google. Keep in mind that each job posting must be marked up individually and included in your sitemap.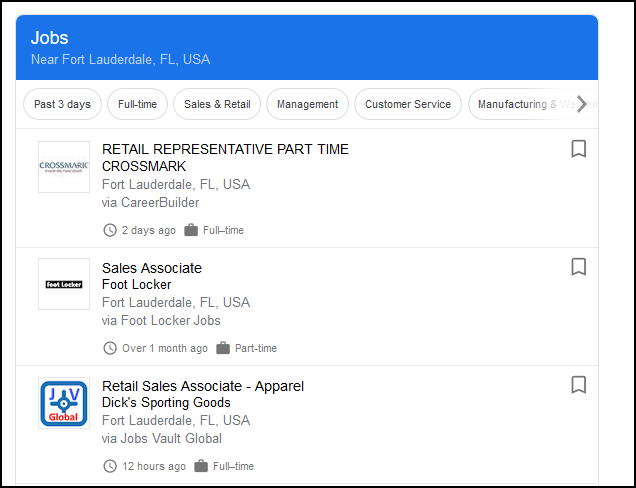 Other Markups
There are tons of markups for all sorts of local businesses, industries, etc. The folks over at Moz have created an amazing list that we recommend you check out as well.
How Structured Data Works

Each of these types of schemas works with their own set of properties or "attributes".
So for example, the Article schema might have attributes such as "title", "image", "author", "publication date", etc.
While the Recipe schema might have specific attributes such as "cooktime", "ingredients", etc.
The idea is to properly tag each of these attributes within your content so that it's properly structured for SEO purposes. We'll teach you how to do this as well.
Structured Data for SEO

Now that you've picked the markups you wish to use, and understand its fundamentals, it's time to add the code to your site.
Start by heading to Google's Structured Data Markup Helper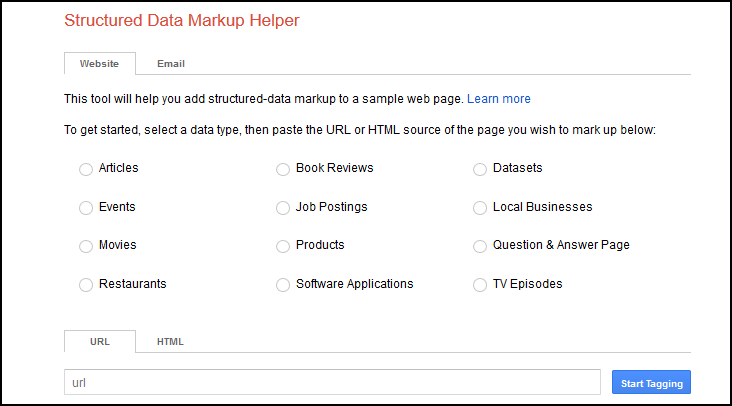 Select the type of structured data markup you wish to implement. For this example, I've selected the "Article" schema.
You'll notice an interface that allows you to select and tag different elements on a website.
The left pane shows the URL and content you've chosen to tag, and on the right side, you'll have an attribute menu that displays all the elements that the markup needs.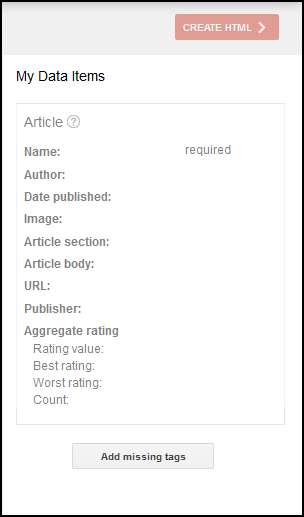 For the "Name" attribute, I've selected the article's headline.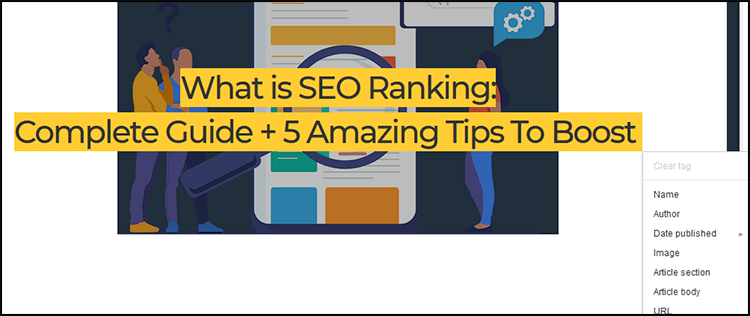 Next, I right-clicked the banner's image and set it as the markup's "image". Now it's added to the attributes menu.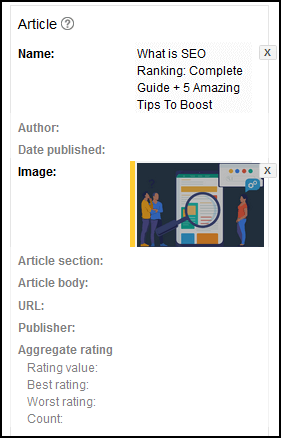 I also selected the article's "body" attribute I want to see displayed on the SERPs.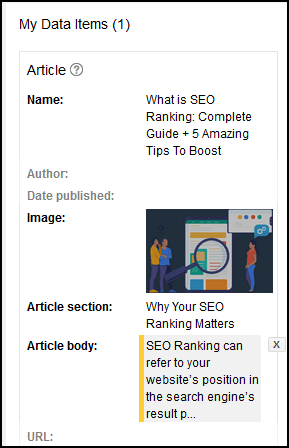 Now it's a matter of tagging the desired text you'll want to be displayed under each attribute. The author, publishing date, and URL are pretty self-explanatory.
Once you've tagged everything that's required, click on the "Create HTML" button.
Make sure that JSON-LD is selected in the format option dropdown

Now all you have to do is paste the code in your website's source code.
For this particular step, we highly recommend you backup your website before making any changes. If you're using a Content Management System (CMS) such as WordPress, pasting this code erroneously could lead to all sorts of issues.
If you're confident in what you're doing, then paste the code in your website's body section. Else, you can hire a trusted developer to help you implement the code correctly, or use a plugin (assuming you're using WordPress).
WordPress Plugin for Schema Markups

Thankfully there are several options out there:
Yoast SEO has a module that helps you handle all your Structured Data SEO needs
Rankmath has quickly become popular as of late. While we haven't personally tried it, their plugin also handles structured data SEO.
Alternatively, you can download and install "Schema". It's been around for a long time and it's a pretty lightweight option that can help you implement schemas correctly.
Validating Structured Data
Regardless of the method you've chosen to use, you'll want to validate all of the extra code you've added and make sure that your structured data SEO is on point.
We'll use Google's structured data validator for this.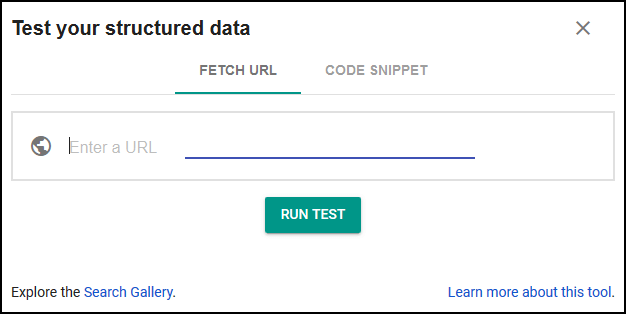 You can verify the code snippet before actually implementing it onto your website, or simply enter the URL and double-check that everything is working as intended.
Any syntax errors or invalid values on any of the markup's attributes will be pointed out to you.
If everything checks out, then congratulations! You've just added structured data SEO to your website.
Structured Data SEO Tools

By now, it seems pretty evident that schema markups are fairly easy to handle – as long as you've got the script in your hands pre-made.
Luckily there's plenty of ways to get these scripts coded in advance for you. All you have to do is tinker it with your data.
Let's start with the biggest, most popular structured data library on the web: Schema.org
Schema.org

Schema was founded by companies such as Google, Yahoo, Microsoft, and Yandex. It's open-source and features thousands of schemas that you can download and alter to your heart's content.
These schemas are filtered by uses. Under the "Organization" category you'll find schemas commonly used by businesses and organizations.
For example, the aggregate rating schema.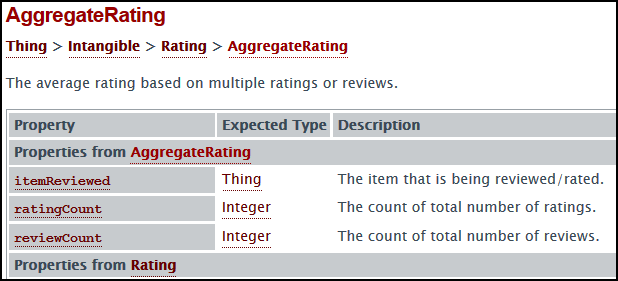 You click on the schema you wish to use, scroll to the bottom, and simply copy the JSON-LD script that has been generated for you.
Very neat!
Google Structured Data Tool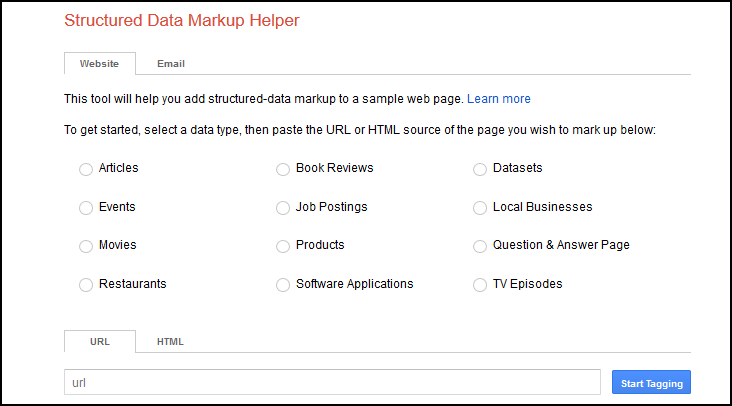 We reviewed this tool earlier in the guide because of how simple it is to use.
You enter an URL, click on a schema and start tagging each of the attributes needed.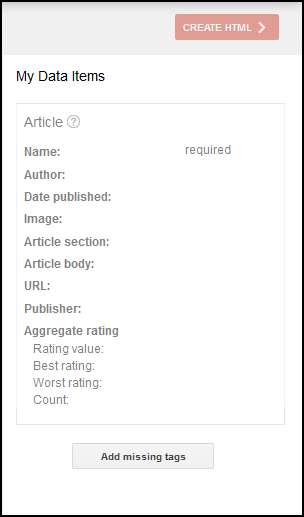 Easy enough! However, it comes with a glaring limitation:
If the schema you need isn't included in their options, you're forced to use other options.
Bing's Structured Data Guide
While we recommend you optimize for Google first, handling Bing's structured data guidelines is not a terrible idea.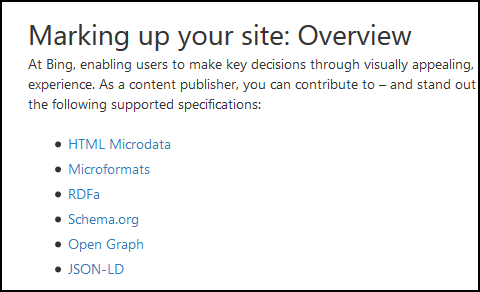 This guide will guide you through this process step by step.
Yandex's Structured Data Validator
Depending on your audience, you might have to optimize for Yandex as well. This tool will help you validate all code you've generated for your website.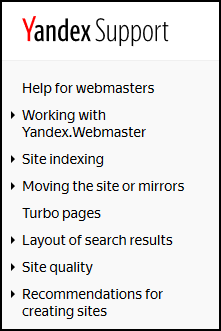 Google Structured Data Validator
In case you missed it earlier in our guide, here's the official Google structured data validator. Use it every time you're about to integrate new code to your website.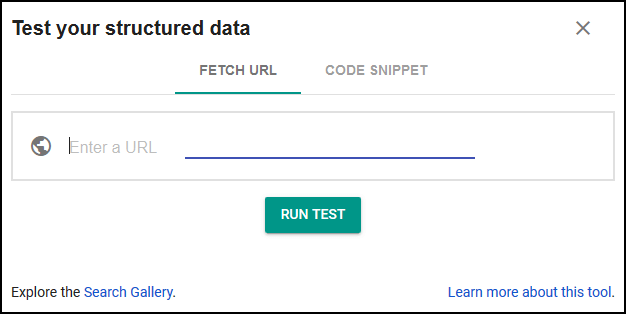 Google's Rich Snippet Tool

This tool will let you know if you're currently eligible for rich snippets. Great for finding out untapped opportunities structured data SEO can help you capitalize.
Open Graph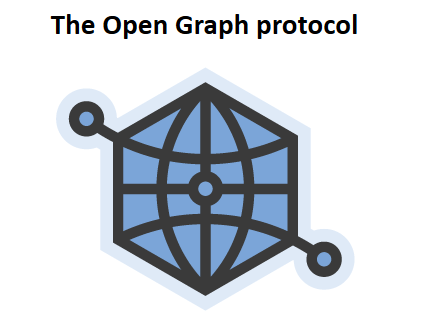 Open Graph features structured data specifically for social networks. If your organization actively uses social media, then chances are you'll need to learn how to use this handy tool.
Most SEO experts recommend that you thoroughly implement both schema markups as well as Open Graph. However, for practical purposes, we've chosen to first introduce you to schema, since it's more relevant for search engines.
Final Words
Structured Data in SEO has remained critical for many years now, and with Google looking to expand their rich results sections on the search engine results page, it's likely to become an even bigger deal in the near future.
Just keep in mind that in order to make the most of this amazing resource, you'll need to be ranking for the content you're looking to promote on the SERPs. So if you're not on page one for your keywords, you're better off focusing on building links for your website first.
We hope you've enjoyed reading this guide!